[ad_1]

Netherlands captain and goalkeeper Sari van Veenendaal has been ruled out for the remainder of Euro 2022 with a shoulder injury.
The PSV Eindhoven No 1 was hurt during their opening game, a 1-1 draw with Sweden on Saturday, and replaced by Daphne van Domselaar of FC Twente.
With Van Veenendaal on the treatment table for the rest of the tournament, Feyenoord goalkeeper Jacintha Weimar will join up with the squad as cover.
The 32-year-old's absence is likely to be costly for the reigning European champions, with the Dutch captain possessing a great deal of experience – having won the 2017 Euros and reached the 2019 World Cup final with her country.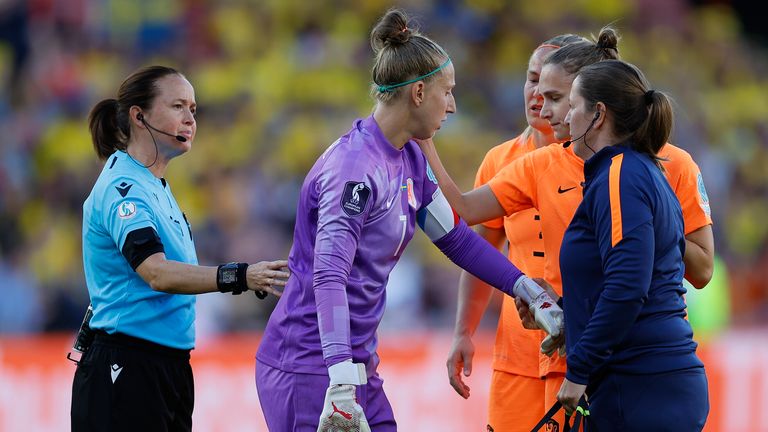 The injury represents another blow to Mark Parsons' Dutch squad, who have lost Manchester United midfielder Jackie Groenen after she tested positive for coronavirus.
The Netherlands face Portugal on Wednesday evening in their second group game of Euro 2020 at Manchester's Leigh Sports Village.
Parsons' side then travel to Sheffield United's Bramall Lane ground to face Switzerland, who are currently having fitness issues of their own.
The Swiss squad had to cancel training after a severe outbreak of illness in the camp on Monday. Eight players and eleven backroom staff are suffering from "gastrointestinal symptoms.
Switzerland's next match is also on Wednesday, when they face Sweden – the second best ranked side in the world – in Sheffield on Wednesday.
Keep up with all the latest from Euro 2022 across Sky Sports and Sky Sports News this summer.
Coverage will be anchored by Sky Sports WSL presenter Caroline Barker, alongside Jessica Creighton and Kyle Walker. Meanwhile, Karen Carney, Sue Smith, Courtney Sweetman-Kirk and Laura Bassett will give analysis throughout the tournament.
They will also be joined by experienced England goalkeeper Karen Bardsley and Manchester City defender Esme Morgan.
The pundits and presenters will work from the Sky Sports Women's Euro 2022 Mobile Presentation Bus, which will follow the Sky Sports News team around the country to the various stadiums where matches are being played.
In addition, Sky Sports' Essential Football Podcast will be rebranded for the tournament to Sky Sports Women's Euros Podcast from 21 June. Hosted by Charlotte Marsh and Anton Toloui, it will feature exclusive news and player interviews in addition to a strong programme line-up around the tournament.
Group A: England, Austria, Norway, Northern Ireland
Group B: Germany, Denmark, Spain, Finland
Group C: Netherlands, Sweden, Portugal, Switzerland
Group D: France, Italy, Belgium, Iceland
Group stage
Wednesday July 6
Group A: England 1-0 Austria
Thursday July 7
Group A: Norway 4-1 Northern Ireland
Friday July 8
Group B: Spain 4-1 Finland
Group B: Germany 4-0 Denmark
Saturday July 9
Group C: Portugal 2-2 Switzerland
Group C: Netherlands 1-1 Sweden
Sunday July 10
Group D: Belgium 1-1 Iceland
Group D: France 5-1 Italy
Monday July 11
Group A: Austria vs Northern Ireland – kick-off 5pm, St Mary's
Group A: England v Norway – kick-off 8pm, Brighton and Hove Community Stadium
Tuesday July 12
Group B: Denmark vs Finland – kick-off 5pm, Stadium MK
Group B: Germany vs Spain – kick-off 8pm, London Community Stadium
Wednesday July 13
Group C: Sweden vs Switzerland – kick-off 5pm, Bramall Lane
Group C: Netherlands v Portugal – kick-off 8pm, Leigh Sports Village
Thursday July 14
Group D: Italy vs Iceland – kick-off 5pm, Manchester City Academy Stadium
Group D: France vs Belgium – kick-off 8pm, New York Stadium
Friday July 15
Group A: Northern Ireland v England – kick-off 8pm, St Mary's
Group A: Austria vs Norway – kick-off 8pm, Brighton and Hove Community Stadium
Saturday July 16
Group B: Finland vs Germany – kick-off 8pm, Stadium MK
Group B: Denmark vs Spain – kick-off 8pm, London Community Stadium
Sunday July 17
Group C: Switzerland vs Netherlands – kick-off 5pm, Bramall Lane
Group C: Sweden vs Portugal – kick-off 5pm, Leigh Sports Village
Monday July 18
Group D: Iceland vs France – kick-off 8pm, New York Stadium
Group D: Italy vs Belgium – kick-off 8pm, Manchester City Academy Stadium
Knockout phase
Quarter-finals
Wednesday July 20
Quarter-final 1: Winners Group A v Runners-up Group B – kick-off 8pm, Brighton and Hove Community Stadium
Thursday July 21
Quarter-final 2: Winners Group B v Runners-up Group A – kick-off 8pm, London Community Stadium
Friday July 22
Quarter-final 3: Winners Group C v Runners-up Group D – kick-off 8pm, Leigh Sports Village
Quarter-final 4: Winners Group D v Runners-up Group C – kick-off 8pm, New York Stadium
Semi-finals
Tuesday July 26
Semi-final 1: Winners quarter-final 1 v Winners quarter-final 3 – kick-off 8pm, Bramall Lane
Wednesday July 27
Semi-final 2: Winners quarter-final 2 v Winners quarter-final 4 – kick-off 8pm, Stadium MK
Final
Sunday July 31
Winners semi-final 1 v Winners semi-final 2 – kick-off 5pm, Wembley


[ad_2]

Source link